With a pretty hefty promise - of shiny, stronger (and longer), tangle free hair, sorting out problematic skin as well as solving bad sleep habits -  no wonder silk has been such a well kept secret in the beauty industry.
Recent studies keep finding ever growing benefits, for medical and beauty purposes, the power of silk seems limitless.
So how does it work? and 

why would using silk in your day and/or night routinesbenefit your hair, skin and sleep?
Silky smooth is not just an expression. The luxurious properties of silk means less friction when you sleep which contributes to hair being softer, more moisturized, and free from tangles.  We recommend choosing a good quality mulberry silk-lined turban or pure silk headbands to protect your hair when going to bed.
 Using a silk turban head scarf creates a barrier from the oils on your face as well as contact with your bedding which in turn encourages a more friction-less night sleep.  Due to this reduction in movement the oils in your hair actually decrease, so your hair styles, blow dries, and hair extensions will have more longevity. Magic!
SILK IS ONE OF THE SIMPLEST & MOST SUSTAINABLE WAYS TO SAY BYE BYETO BAD HAIR DAYS!
At Tot Knots we use the finest Mulberry and Liberty of London printed silks in our beautiful, unique and handmade silk turbans and scrunchie hairbands.  Giving you a most luxurious and comfortable wear - day and night. The 100% pure silk lining and double layering of te turbans helps to reduce friction to smooth, condition and control frizz-prone and prevent tangled hair.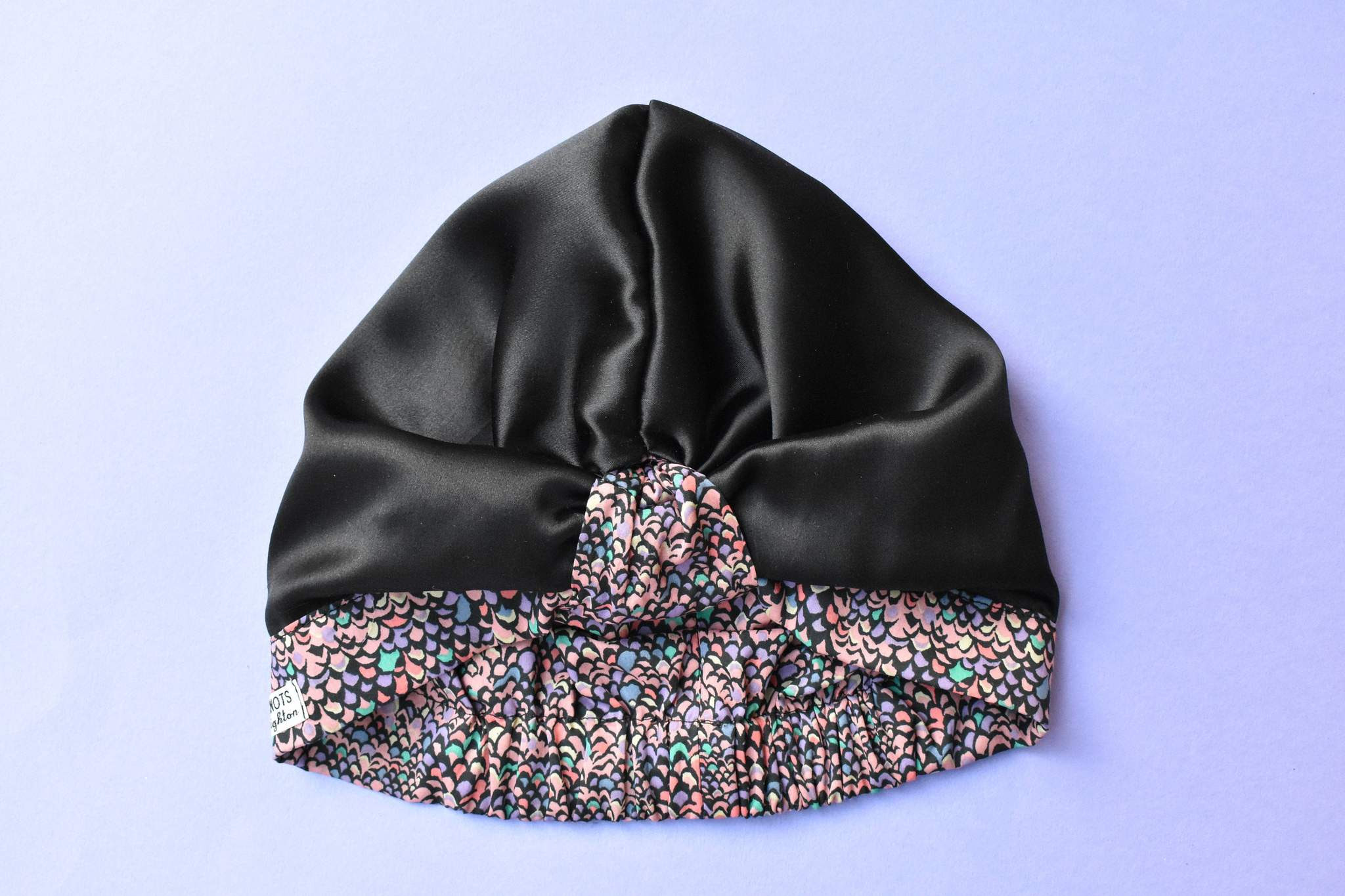 SILK SLEEP BONNETS ARE PERFECT FOR BABIES & LITTLE PEOPLE WITH SENSITIVE SKIN AND DELICATE CURLS 
2. Silk = Better Sleep + Healing Powers on Your Skin
.Silk fabric absorbs less moisture from your face than cotton - so your

 skin stays hydrated and plumper, showing fewer fine lines (aka wrinkles!) and a more luminous complexion.

Using a Silk Eye Mask is an excellent way of keeping moisture around the eye area.  Helping your skin to stay healthy and smooth, and reduce the appearance of facial wrinkles.

Studies have shown that the proteins in silk are extremely high in antioxidents which is another major tick and good news in the reduction of wrinkles!

Ever find yourself getting hot at night? Silk is a br

eathable, natural temperature regulator, keeping you at the optimal temperature for comfort - all night long.

Silk fibres are all natural, meaning they consist of no nasty chemicals. Brilliant for allergy sufferers.
3. Silk is The Most Effective Natural Fabric used in Face Covering
Silk comes from the silk moth, it's the natural fibre used to spin its cocoon.
Proteins found in pure silk are not only water resistant but also antimicrobial (i.e. kills microorganisms or stops their growth), antiviral, and antibacterial. It is even used to make surgical sutures!
Fac

e coverings made of 100% washed silk are the most effective at preventing the penetration of droplets and absorbs water the least. This coupled with its breathability and the fact that it does not trap water, makes it ideal for protecting the wearer.
Silk does not irritate the skin or increase as much humidity around the face as other materials, making it suitable for prolonged wear, and avoids increased, accidental face touching.  
GIFT WRAPPING 
All Tot Knots of Brighton products come beautifully wrapped and ready for gifting - whether it's a special gift just for you or something to cheer up a loved one - every item is lovingly packed to make it the perfect present to receive through the post.